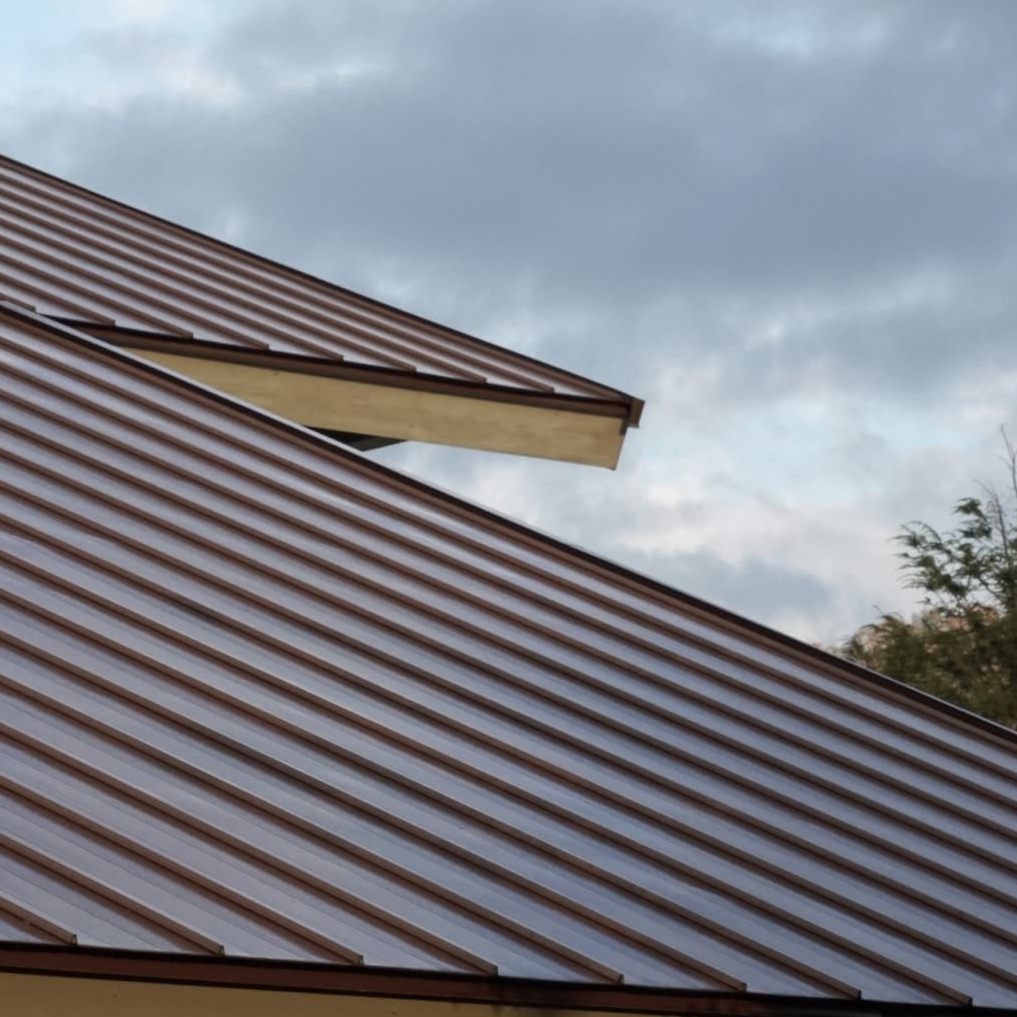 Upgrade Your Home's Look and Durability with eRoof's Steel Roofing Systems: Standing Seam and Steel Shakes
eRoof offers two steel roofing systems for residential homes. Standing Seam is a product that comes in multiple gauges and has ribs creating a clean and unique industrial look. Steel shakes are a great choice for homes that want to have beautiful lasting roofing systems, and for areas that regularly are impacted by severe weather. Both products are a 50-year product and come in a plethora of colors.
17 Colors – A wide variety of solid and enhanced colors, to meet the style of every home or business owner.
Unmatched Warranty – Industry's only true lifetime, non-prorated limited warranty that includes material and labor.
Cool Roof Technology – PVDF finish reflects sunlight and absorbs less heat typical roofing material.
Resistant to Mold and Mildew Growth – PVDF finish includes a non-nutrient preventing fungal growth.
Impact Resistance – UL Class 4 Impact Rating, the highest impact rating available.
Wind Resistance – Tested to resist wind speeds up to 160 mph.
Durability – Will not chip, crack or peel.
Virtually Maintenance-Free – Achieve a consistent look with our 30-year fade protection.
Non-Combustible – Most steel roofing assemblies achieve Class A fire rating, the highest in the industry.
Environmentally Friendly – Steel roofing is 100 percent recyclable which means any waste associated with the installation of our products can be recycled into future consumer goods without harm to the environment.
Can I walk on the metal roof after it is installed?
Yes, but like with any roof, care should always be taken.
Is a metal roof noisy when it rains?
A study conducted by the Acoustic Group found that the sound from a metal roof was only six decibels greater than that of a conventional asphalt roof. With ArrowLine's four way locking and fastening system and the proper underlayment your ArrowLine roof will not contribute to additional noise.
How does the cost of a metal roof compare to other roofs?
Although a metal roofing system may cost more initially the metal roof should never need to be replaced and therefore should be less expensive over the life of your home. Common asphalt shingles have a shorter life span and will need to be replaced periodically and can be more expensive over the life of your roof.
Can a metal roof be damaged by hail?
Metal panel roofing is designed to withstand the impact of most hailstorms. Edco double embossed panels will help minimize damage that might be caused by hail. Edco roofing is covered by a hail protection warranty and approved by many insurance companies for reduced homeowners' insurance rates. Standing seam can be dented and may show damage but it does not affect how long the roof will last.
Can metal roofing reduce my energy bills?
The TRINAR® finish used in the manufacturing of ArrowLine roofing, reflects the majority of the sun's rays and therefore minimizes any heat build-up in your attic. The solid colors are ENERGY STAR® approved which means that you could actually have a cooler attic when combined with proper ventilation.
How long should I expect my metal roof to last?
Metal roofing should be the last roof system that you ever buy. Metal roofing was designed
to withstand the extreme cold of the northern regions and the blistering heat of the southern states. Edco metal panels carry a Lifetime Non-Prorated Limited Warranty.
Can I install metal roofing over my existing roof?
Yes, in most cases. Check with your local building inspectors to see if there are any restrictions
in your area.
Do I need to run a ground wire to the shingles?
Grounding of metal roofing and siding is not required by most major building code organizations. Some local building codes might require it, so check with the local inspectors before starting the job.